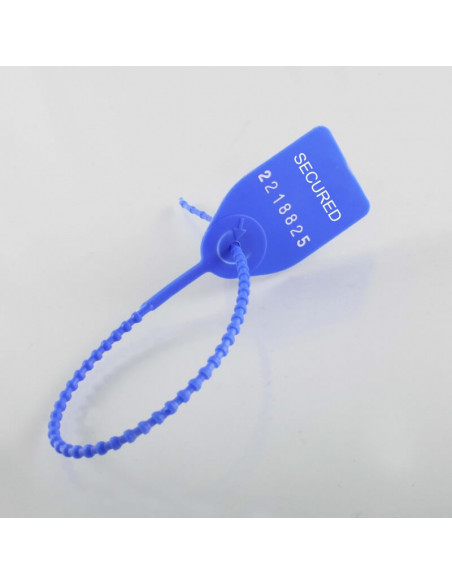 Pulltight seals - PP - Length 210 mm - Tail Ø2.5 mm
• Tail length (useful) : 210 mm
• Tail diameter : 2.5 mm
• Several colors available
• Use :  mainly used to close lorries
Spécifications techniques
Packaging

by 500 units

Material

Polypropylen

Diameter (mm)

2.5 mm

Type of seal

Incremented tail

Usable length

Total length
Combinations
Color
Reference

Color : White


Reference : 070194-blanc

White

070194-blanc

Color : Blue


Reference : 070194-bleu

Blue

070194-bleu

Color : Grey


Reference : 070194-gris

Grey

070194-gris

Color : Yellow


Reference : 070194-jaune

Yellow

070194-jaune

Color : Black


Reference : 070194-noir

Black

070194-noir

Color : Orange


Reference : 070194-orange

Orange

070194-orange

Color : Red


Reference : 070194-rouge

Red

070194-rouge

Color : Green


Reference : 070194-vert

Green

070194-vert
This 251 mm long polypropylen seal is mainly used to close lorries.
Its tag is 28 x 35 mm. Its 2.5 mm diameter notched tail is 210 mm long.
It resists to 12 kg.
It is available in stock, marked SECURED with a consecutive numbering, in red, blue, white, yellow, green.
They can also be personalized with a name from 1000 pcs (2 lines with max 10 characters) in a 4 week leadtime, or with a logo in 6 week leadtime (additional costs on 1st order).
Other colours are available on request : grey, black, orange or purple
Packaging

by 500 units

Material

Polypropylen

Diameter (mm)

2.5 mm

Type of seal

Incremented tail

Usable length

Total length